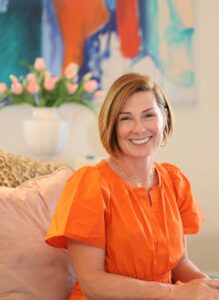 I have always loved making beautiful interiors. As a kid, I constantly rearranged and redecorated the rooms of my house, my bedroom, my dollhouse, my treehouse, and my "fort" in the basement. I would sit on the kitchen floor and draw interiors on the family chalkboard installed on the back door. I would do the same on the reams of paper my Dad brought home from the office. Riding my bike or walking to and from school, I would look at homes I passed and imagine their interiors and how I would arrange them if I lived there. Another favorite pastime was helping my Mom set up for holidays, parties and dinner parties. I had no idea what I was doing was unique or employable. It came naturally to me.
Ignoring nature, I studied Political Science at Muhlenberg College with the intention of continuing on to law school. Ultimately, I graduated with a double major. A creative kid, I loved drawing, painting and collage and eventually, every elective I chose was an art class and I quickly earned enough credits to add an art major to my resume. Art started stealing the spotlight of my career track when I interned my junior year "abroad" at an arts organization in Washington, DC, and then my college art gallery my senior year. I eventually channeled my love of art as an Art Educator, earned my MSEd at Bank Street and Parsons School of Design, and loved every minute of teaching studio art and art history to kids from kindergarten through 12th grade, mentoring colleagues, and chairing my department.
In the meantime, my apartments in Hoboken and New York City became design projects. When my husband and I moved to Ridgewood, New Jersey, two months to the day before giving birth to our first son, I finally had a house of my own to design, decorate, and rearrange to my heart's content. I renovated that little 1940s Colonial, then the 1890s Edwardian Colonial home I'm in now, and most recently our 1950s Long Beach Island Cape Cod, honoring their history, while updating them for my busy family of 5 (+2 dogs).
I stayed home for 15 years to raise our three boys, volunteering at their schools and other organizations in town. I also volunteered to style several homes, including my own more than once, for local house tours. With my boys now teenagers, I started working as a Consignment Liaison for Sotheby's. As I adjusted to the work/home balance, I considered my dream job. I used the 2017 Ridgewood Woman's Club Holiday House Tour to debut a new business as an Interior Stylist, Curated by Ellen.